The Pantry Challenge is hosted by Good (Cheap) Eats a couple times a year. The goal is to "eat down your pantry" to use up forgotten ingredients, rotate your stock, and reduce grocery costs for a month.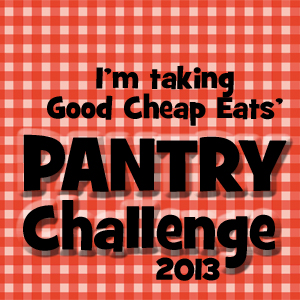 I read about the Pantry Challenge a couple days into the month, but was already unintentionally meal planning out of the pantry so it was easy to jump right in! I had already started with some "leftover" meals from my Christmas week meal plan, so meal planning last week was fairly easy. We eat light breakfasts and for lunches we mainly do leftovers, so dinner has been my primary "eat down the pantry" focus. Before I started meal planning, however, I took an inventory of my pantry, fridge, and two freezers to see what we need to be using up during this challenge.
Some items in my freezer were no surprise at all. Ben still has a mallard in there waiting to go to the taxidermist. There was a bag of Very Old fish that got thrown in the trash finally. There are a lot of green beans from our garden. (Does anyone have clever ways of preparing green beans? I've run out of ideas.) And then there were a few thing in there that I didn't expect, like the fact that we have four (yes FOUR!) turkeys in our freezer! I knew we had three, but the fourth has magically appeared out of thin air. So we will be roasting a few birds this month, to say the least. Then there was a bag of... something. Ham, maybe? It's on the list as Mystery Meat, a tribute to the days before I started labeling my frozen goods. Suffice to say, our freezer is full and we may even carry the Pantry Challenge over into February just for good measure.
So far we've had homemade barbeque chicken pizza with cheese sticks,
Rustic Chickpea Stew with brown rice
, mango curry chicken salad, ham sandwiches on homemade wheat bread, and Strawberries and Cream Stuffed French Toast. Our grocery bill for the last two weeks was about half of what it normally is, so our Pantry Challenge is working great so far!
The Strawberries and Cream Stuffed French Toast turned out fantastic! I decided to make it after noticing that I had cream cheese in the fridge, and strawberries and a loaf of sweet currant bread in the freezer. I pulled out an old index card recipe and tweaked it to use what I had around. Here's what I came up with!
Strawberries and Cream Stuffed French Toast
about one loaf firm bread, cut into 1 in pieces (I used currant bread and some homemade whole wheat bread)
8 oz cream cheese, cubed
12 oz strawberries, quartered
1/4 cup dark brown sugar
8 eggs, beaten
2 cups milk
1/2 cup maple syrup
1 tsp cinnamon
1 tsp vanilla or almond extract
Butter a 9x13 inch pan and spread about half of the bread pieces on the bottom. Distribute the cream cheese evenly over the bread and layer the strawberries on top. Sprinkle the brown sugar over the berries and then add the remaining bread as the top layer. Mix together eggs, milk, syrup, cinnamon, and vanilla and pour over bread. Refrigerate, covered, for at least an hour or overnight. Bake at 375 degrees for 50-60 minutes. Serve with syrup and whip cream if desired.